As Gilded Age Newport was known as a summer playground for the well to do, middle and upper class African heritage families would also travel to the seaside community to take part in the many recreational activities of the day including walking on Cliff Walk, strolling along Bellevue Avenue, fishing on Ocean Drive and bathing at Easton's Beach.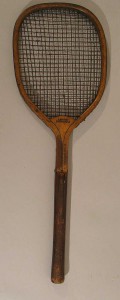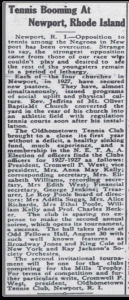 Tennis was one of many popular sports to watch and take part in during Newport's Gilded age. Not to be left out of the fun, the African American churches, led by Mt. Olivet Church, came together to promote tennis for their young children.
By 1927, there was a regulation
size tennis court in the backyard of
the Mt. Olivet Baptist Church onThames Street.
The "Old Hometown Tennis Club" was formed including annual tournaments.